The Australian startup scene, contrary to popular belief, is among the fastest-growing startup environments in the world and has taken massive strides from the past. The latest trend in this startup scene is cybersecurity – with expected revenues of over A$6 billion for cybersecurity services and products in Australia alone by 2026, according to AustCyber.
So what does it take to make it as a cybersecurity start-up (like our very own TNK2) here in Australia? Well – the first point of call is a startup bootcamp.
What is a startup bootcamp?
A (startup) bootcamp is designed to help early-stage entrepreneurs evaluate their ideas, develop solutions and familiarise themselves with the startup environment before jumping into accelerator/ incubator programs or start raising funds.
It's just like the military bootcamp – which gets fresh faces prepped & ready for battle within the competitive startup environment.
CyRise Bootcamp 2021
CyRise is a venture accelerator that supports Asia-Pacific startups in cybersecurity.
Twice every year, the team at CyRise organises a Bootcamp that helps founders to refine their startup ideas with advice from experts specifically from the cyber startup scene in Australia.
We got the opportunity to join CyRise Bootcamp in June 2021 as a part of a 3-day in-person session based out of Stone & Chalk at Docklands, Melbourne. The Bootcamp gave us an opportunity to interact with a number of early pioneers, industry experts and venture capitalists in the cybersecurity startup ecosystem such as:
Gaurab Bhattacharjee – Co-founder of Appsec360
Rebecca Martin – Co-founder of MailTumble
Tracie Thompson & Mike Thompson – Co-founder of HackHunter
David O'Brien – Founder of ARGOS
Gyle Dela Cruz – Incident Responder at IBM
Ben Waters – Co-founder of Cydarm
Shane Laffin – Information Security Manager at Reece Group
Ron Moritz – Entrepreneur in Residence at CyRise
Our key takeaways
Through the Bootcamp we had an amazing opportunity to share our innovative idea to tackle human challenges in cybersecurity and gain insights from the best experts in cybersecurity and startup, which helped us consolidate our business idea in multiple aspects.
The human side of cybersecurity is very often glanced over
Through our chats with various cybersecurity company founders and industry experts, we saw that there is a lack of attention paid to the human side of cybersecurity – the very same problem we are trying to tackle at TNK2. There is a huge range of cyber solutions but getting people from employees to key stakeholders to buy-in and adopt them is a really difficult pain point faced by nearly every business that uses digital technology.
Refining our value proposition
The real value of our solution comes from our Behavioural Assessment Engine, which measures and quantifies human behaviours and risk levels. This enables us to provide personalised solutions through the applications.
Learning to pitch to everyone and anyone
Pitching is hard. However, CyRise Bootcamp showed us that a pitch isn't something that you just do in front of an investor, because you never know when opportunities show up. Hence, a founder should be able to pitch anywhere, anytime and to anyone. This is something we learned as a part of the Gaddie pitch and by learning how to talk to people from a sleuth of different backgrounds.
Thank you, CyRise!
Huge thanks to the CyRise team – specifically Scott Handsaker, Kirsten McIntosh, Thuy Nguyen, Edwin Tay and all the attendees and teams present at the Bootcamp for this wonderful opportunity. We were super excited to get to learn and meet the best in the cyber startup scene in Australia and would highly recommend anyone thinking about refining their cybersecurity startup idea.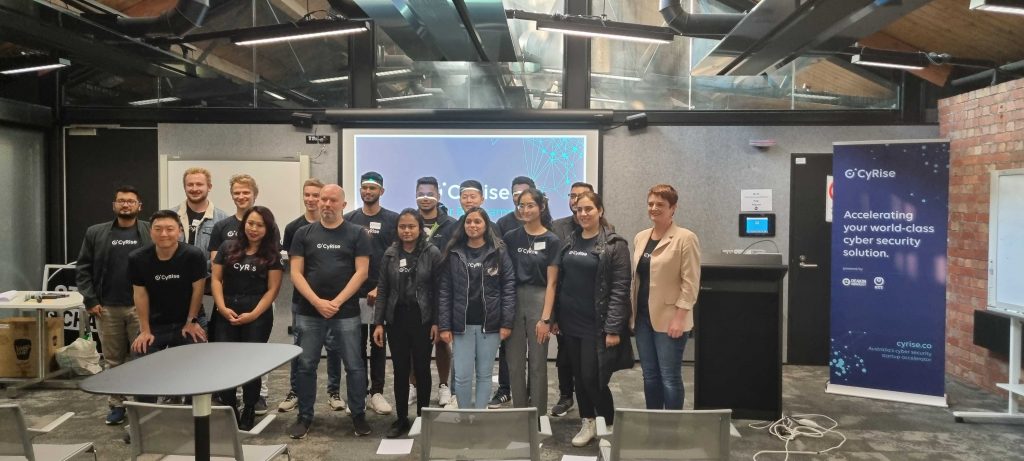 We at TNK2 are a cybersecurity research and development company based in Melbourne, Australia. We are looking at the latest development and research in behavioural science and cybersecurity to help measure individual's human errors that lead to cyber incidents. To learn more about us, have a look at a website. Get in touch with a TNK2 founder here.